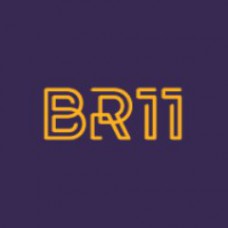 Accepting
USD, EUR, BTC, ETH
BR11 is a Security Token legally backed by equity in 11 high-growth revenue generating startups. Unlike 98% of the ICOs, which are pre-operational with no revenue, 90% of these companies already have fully-ready products, product-market fit, are generating revenue and growing fast. BR11 opens an investment opportunity to a much broader audience that otherwise would not be able to invest in a traditional venture capital fund, not to say one that can be traded in a Security Token Exchange.
The BR11 Token Fund is the first Brazilian based Security Token Offering. The fund is tokenized in a regulatory compliant manner in which tradable "digital securities" are issued through asset backed BR11 Security Tokens.
The BR11 Token Fund provides global investors with the opportunity to invest in 11 pre-selected high growth startups that are among the best performers in Brazil's under-valued entrepreneurial ecosystem.
WHY INVEST IN BR11

Investing in the BR11 Security Token translates into an investment in a high growth rate portfolio of 11 Brazilian technology startups with significant revenue and market share.
90% of the BR11 investment portfolio have overcome the initial startup establishment cycle and are already in the growth phase and some already expanding internationally.
From the moment of issuance, the BR11 security token will have full liquidity in at least one Security Token Exchange (to be announced).
The BR11 token value will be mostly based on its high-profile startup portfolio performance instead of the state of the cryptocurrency markets.
HOW IT WORKS

Buy BR11 Tokens

Send Ether, Bitcoin, Bitcoin Cash, US Dollar or Euro and receive BR11 Tokens.
Benefit from Ownership in a Diverse Group of Startups

BR11 holds up direct economic interests in 11 high growth Brazilian startups.
Propel Startup Growth

Proceeds from the fund will be distributed directly to the 11 companies.
Return On Investment

Trade tokens as the value of BR11 portfolio companies increase. Receive proceeds from liquidity events.
Team
Roadmap
Listing in Security Token Exchange
White Paper
Investment Info
Accepting
USD, EUR, BTC, ETH
Token Info
Country
Cayman Island
Hardcap
$30,000,000
Softcap
$10,000,000
Token
BR11
Platform
Ethereum
Type
ERC20
Token Price
1 BR11 =$ 1
Token Count
30,000,000
Schedule
Pre-Sale Start Date
2018-September-01
Pre-Sale End Date
2018-Seprember31
Crowd Sale Start Date
2018-October-01
Crowd Sale End Date
2018-October-31
This ICO is being reviewed in detail. This section will be updated soon.
BR11 Token - A Liquia Digital Assets Security Token Offering(BR11)
Top Raised ICOs - Ending soon
ICOs being viewed at the moment