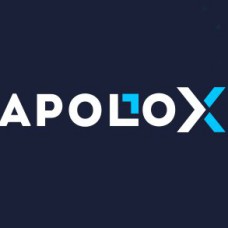 Token Count
10,000,000,000
Price
1 APXT = 0.0055 USD
ApolloX is a platform for building decentralized e-commerce applications and services on blockchain. ApolloX will use tokenization and decentralization to replace today's rent-seeking enterprise with a new model of complete shopping protection, data security and minimal commission
Decentralized Marketplace: to buy and sell without intermediaries

We are working to disrupt today's e-commerce marketplace industry and provide everyone all the benefits of trading through a marketplace like Amazon without the unnecessary costs that come from monopolistic intermediaries.
WHAT IS ApolloX

ApolloX is a decentralized ecosystem connecting buyers and sellers with trust and efficiency, without information silo and commission fees. The ecosystem has three building blocks.
Shops Powered by ApolloX

Independent web stores and decentralized marketplaces built with ApolloX Protocol.
ApolloX Protocol

A protocol layer that makes it easy to build decentralized e-commerce applications and services on blockchain.
ApolloX Community

A fast growing community of manufactures, sellers, customers, service providers and technologists. Community members contribute and get rewarded for providing value to the whole community.
PROTOCOL

Attribution Protocol

Rewards community for referral traffic and affiliate sales
Payment Protocol

Securely transfers payment between buyer and seller to prevent frauds and accelerate turnarounds
Reputation Protocol

A trustable review system for products and sellers. Rewards authentic high quality reviews and penalizes fraudulent behaviors
Oracle and Data Protocol

Trustable data IO between ApolloX platform and external apps to amplify the value of data in ApolloX platform
Arbitration Protocol

Resolves disputes in a transparent and efficient way through stake and challenge with rewards
Community Built Protocol

Soon all ApolloX members can build their own protocols that will best serve and advance the ApolloX communit
ApolloX USE CASE

Decentralized Marketplace

The decentralized marketplace with an unparalleled user experience
Independent Stores

Powers independent stores with blockchain and the ApolloX network , charging minimal fees and producing intrinsic traffic
E-Commerce Services

Service businesses for the sellers and buyers, such as decentralized shopping data exchange and decentralized shopping insurance market
ApolloX Token

ApolloX Token (APXT) is designed to facilitate transactions within ApolloX ecosystem and promote positive contribution to the community.

There are multiple ways for each role to earn and spend APXT in the ecosystem.
Earn for sharing social accounts. Customers can earn APXT by opening accounts and connecting social networks.
Pay for services on ApolloX network. Sellers need to pay for platform service fees such as advertisement and search ranking with APXT.
Rewards and Affiliate Program. Members bring in affiliate traffic earn APXT as rewards for affiliate orders.
Perks for members holding APXT. Premium members who hold APXT tokens receive perks such as discounts in purchasing and free service.
Team
Roadmap
ApolloBox passed $1M monthly sales.

ApolloX Foundation founded for exploring blockchain technology for e-commerce.

ApolloX releases whitepaper.

ApolloX Token integrated with ApolloBox app.

ApolloX front-end system beta version release.

ApolloX alpha version running on distributed nodes.

ApolloX decentralized marketplace starts test operation.

ApolloBox migrates all operation onto ApolloX Infrastructure.

ApolloX becomes a fully decentralized service.
White Paper
Investment Info
Accepting
ETH
Token Info
Country
Singapore
Hardcap
Softcap
Token
APXT
Platform
Ethereum
Type
ERC20
Token Price
1 APXT = 0.0055 USD
Token Count
10,000,000,000
Schedule
Pre-Sale Start Date
Pre-Sale End Date
Crowd Sale Start Date
2018-October-01
Crowd Sale End Date
2018-October-15
This ICO is being reviewed in detail. This section will be updated soon.