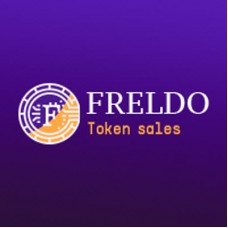 Accepting
ETH, USD,EUR, Credits (CS)
Imagine a network with a semblance of a small city! A city where you get to add friends you know and trust, where you can listen to their ideas and share opinions!!

Welcome to Freldo – A Global and decentralized ecosystem linking service providers and customers, based on blockchain technology and smart contracts! It is a business social network to search for experts in your city.

Freldo has a large number of specialists of various profiles and it combines the feedback of people you trust, whom you know well, and with whom you have similar preferences and interests. Freldo is a business social network to search for experts in a city, where it's easy to find like-minded people, friends on interests & business partners and with the implementation of blockchain technology, Freldo gives the users safe and transparent platform for growing business and communication.

Freldo Key Offerings:
Freldo solves problems of modern services market in several ways and it provides the below great opportunities for its users
Search for new contacts for communication and business
Quick and convenient search by specified parameters
Effective marketing with minimal investment
No fake reviews
Safe transactions and transparency thanks to blockchain and smart contracts
Freldo Ratings:

When making ratings, Freldo follows the below important aspects
Transparency: All participants in the communication on the network should understand how ratings are presented
Legitimacy: Only the real customers will be able to influence the ranking in the rating table of the entrepreneur
Integrity: Developers of Freldo intend to not only significantly hamper, but also completely eliminate the possibility of manipulation in this issue
Confidentiality: The data of the participants who make the assessments are not disclosed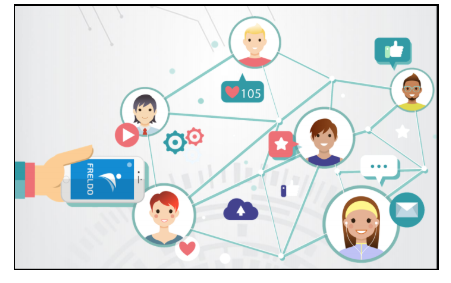 Token Allocation
| | |
| --- | --- |
| Token Sale | 75% |
| Team | 10% |
| Reserve | 10% |
| Bounty | 5% |
Funds Allocation
| | |
| --- | --- |
| Development of new version of Freldo network and implementation of blockchain technology | 35% |
| Marketing campaign, expanding the market in advanced countries | 35% |
| Customer Service and Support | 15% |
| Platform Security | 10% |
| Company and legal cost | 5% |
Token Sale Details
Their crowd sale is of "CappedCrowdsale" type with hard cap defined. When Hard Capped value is reached, their crowd sale stops working automatically.
| | |
| --- | --- |
| Token | FreldoCoin |
| Symbol | FRECN |
| Token supply | 800,000,000 |
| Pre-ICO, ICO | 600,000 ,000 (75%) |
| Blockchain | Ethereum ERC-20 |
| Decimals | 18 |
| Price | 1 FRECN = $0.08 |
| Start of Pre-ICO | August 17, 2018 to September 16, 2018 |
| Start of ICO | September 17, 2018 to December 31, 2018 |
| Accepting | ETH, USD,EUR, Credits (CS) |
Bonus Details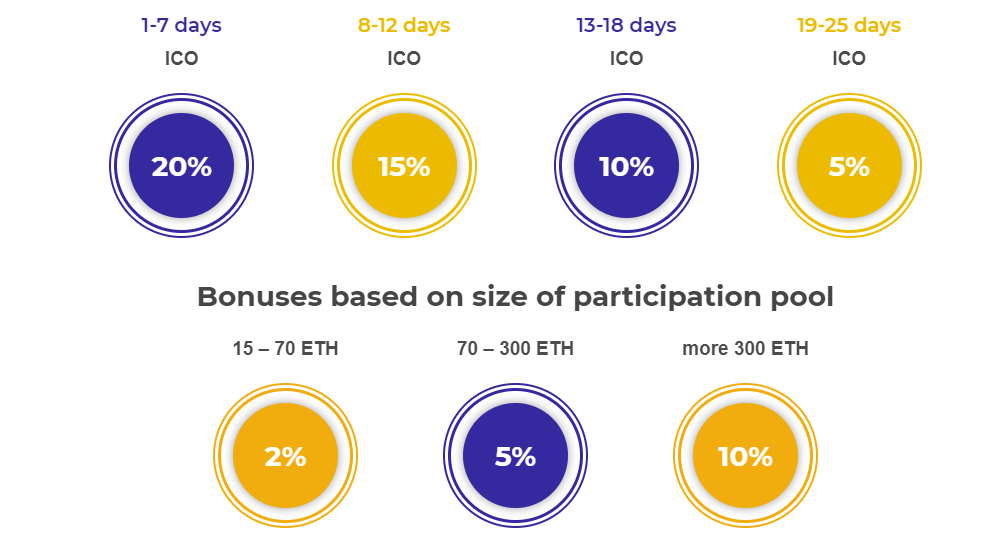 Team
Roadmap
Statement of work (SoW). Freldo staff expansion with high-qualified specialists

Implementation of cryptocurrency payments, smart contracts and block chain technology in payment system

Development and implementation of Mobile Application for Android and iOS

Improvement of security system on the Freldo platform. Updating of partnership prog

Implementation of multi-language customer support 24/7
White Paper
Investment Info
Accepting
ETH, USD,EUR, Credits (CS)
Token Info
Hardcap
$20,000,000
Softcap
$5,000,000
Token
FRECN
Platform
Ethereum
Type
ERC20
Token Price
1 FRECN = $0.08
Token Count
800,000,000
Schedule
Pre-Sale Start Date
2018-July-16
Pre-Sale End Date
2018-August-16
Crowd Sale Start Date
2018-August-17
Crowd Sale End Date
2018-December-31
Welcome to Freldo – A Global and decentralized ecosystem linking service providers and customers, based on blockchain technology and smart contracts! It is a business social network to search for experts in your city.
Freldo is conducing an airdrop campaign to spread the awareness about its upcoming ICO.
Airdrop Details
---
Freldo will distribute up to 2,000,000 FRECN in this round of airdrop campaign.
The total value of airdrop is $170,000 at ICO price.
Freldo will distribute 200 FRECN to each eligible participant.
Airdrop is limited to 10,000 partcipants only.
Airdrop tokens will be distributed within 4 weeks after successful completion of ICO.
Disclaimer : Please note that we are not associated with the ICO nor are paid for preparing this review. This is our personal opinion and contributors are advised to do their due diligence before contributing to the ICO.

Freldo is a social network where professional business owners can compete and present their services while clients easily find the best specialists in a specific area due to the friends' feedbacks. Freldo network was created for friendly communication as well as maintaining working relationships. One can easily find service providers under friends` recommendations. Freldo application helps to grade businesses for the customers by their ratings, distance from their location, price range and other relevant criteria. Freldo unites small business owners and gives them the opportunity to provide quality service and compete with the largest companies without price increases

We have analyzed the ICO based on the below parameters:

1.Necessity or problem statement (12%)
2.White paper (9%)
3.Product Status (10%)
4.Team (10%)
5.ICO Pricing (7%)
6.Business Model/Revenue Source (15%)
7.Token Value Increment Options (15%)
8.Social Media Presence/Hype (10%)
9.Competitors (12%)
Below is the score we have given for each parameter and overall rating of the ICO.
Parameter
Total
Score
Necessity or problem statement

12
10.8
White Paper

9
6.3
Product Status

10
9
Team

10
8
ICO Pricing

7
5.6
Business Model/Revenue Source

15
12
Token Value Increment Options

15
12
Social Media Presence/Hype

10
7.5
Competitors

12
9.6
100
80.8
Please continue reading for detailed analysis.

1. Necessity or Problem Statement (12%)

Despite the rapid development of the service industry, to start generating sales, to make a successful entry into these markets is not easy. This task is especially difficult for beginning small businesses, whose problems are not only a lack of resources, but also a lack of knowledge about the state of the market.
The following are the major challenges faced by the small businesses.
High commissions and various fees for users of sites and payment systems. Much of the money earned by small businesses is thus spent on the payment of basic marketing services, financial transactions, currency conversions, etc.

The buyer's lack of confidence in the seller. Most customers prefer to order services from proven companies. However, the existing sites do not allow the buyer to obtain quality assurance.

Impossibility to present your service in a qualitative way. Often, on existing sites, small business receives very limited opportunities to describe its services for the placement of photo and video materials. The client does not have the opportunity to see the real opinions.

Expensive marketing. Only large corporations can benefit from the offered opportunities, which easily win in the competitive struggle with small business.
At the same time, the following are the challenges faced by the customers.

A potential customer easily finds on the Internet the offers of large corporations. However, searching for unique products provided by small businesses is difficult. In many cases, the services of this segment are not represented at all in online stores.

Often, small business services are presented so poorly that a potential client cannot receive objective information about the quality of the product and its essence. As a result, the buyer refuses to purchase, ending up in look at the proposals of large corporations.

It is impossible to verify the reliability of customer feedback on the services offered. Of the Internet-resources often published, there are only those reviews that are beneficial to the supplier. Often they are organized by the company itself and mislead the client.
Freldo as a platform and a social network addresses each of the above challenges faced by the small businesses and the customers. Freldo was created as a free public place, where small businesses and their customers – who are close friends and acquaintances – could communicate through blockchain-based interfaces and ultimately connect the small businesses with the customers. Freldo brings in the power of feedback to address challenges like the high cost of advertising on popular Internet resources and the existing distrust of potential customers to service providers. This platform gets a 9 on 10 in terms of their choice of the problem statement and their attempt to help the small businesses and the customers.
2. White paper (9%)

You can go through their whitepaper in the 'Details' tab.
Well written whitepaper with exhaustive information about the market review, the problem statement, project principles, details about the concepts, roadmap and their team. We would have liked to go through the technical architecture of the platform which is not available at all in the whitepaper; we get a feeling that the White paper is created for the public. The White Paper we feel should have included some numbers in the form of competitive analysis or modes of revenue generation. Freldo Github repository can be accessed here: https://github.com/FreldoZL/. Though there is very minimal digital footprint here in the form of contribution to the repositories, we feel that having a repository link in itself is a good sign.
We give them 7 out of 10 on this aspect.
3. Product Status (10%)

One thing that really appeals to us is that, Freldo has launched their ICO not with MVP, but with a fully functional business social network in itself. Freldo is therefore fully functional. In other words, everybody can visit the website and check it out to get a comprehensive view for what he / she invest. We really like this. Apart from this, Freldo is planning to launch their own FreldoApp mobile application. Launching their mobile application will help the FreldoApp network to reach a new stage of development, where the users of the Freldo social network will be able to communicate, make orders, make payments, publish offers of their business, etc. They have an MVP and apart from this, there are no demo platforms / working prototypes that are currently available.
We give them 9 out of 10 in this aspect.
4. Team (10%)

The ICO is an extension of Freldo Inc. (registered in Canada in 2011, located in Toronto, Ontario). So this is not a new project, they are just implementing the blockchain technology into their ecosystem. In that sense, the Freldo team has a group of like-minded people, blockchain enthusiast and professionals. Each team member has experience in IT development, finance, business planning among others and one thing we like about Team Freldo is that they are advised by people who have experience in ICO.
The founder & CEO - Eugene Olkhovski has vast experience of over 20 years in the software industry and brings the same to Well. His LinkedIn profile looks really compelling. Other team members including Zelik Levit (CTO), Pavel Brokhman have good industry experience behind them. Overall they have a decent team in place. The current team is strong, but is not big enough, we feel. As of now they have 3 advisors and 6 team members. But this concern has been addressed in their roadmap that states that the team will be expanded in the fourth quarter of 2018 with highly qualified specialists.
We give then 8 out of 10 for team.
5. ICO Pricing (7%)

Freldo has launched its cryptocurrency called FreldoCoin (FRECN) token. This cryptocurrency relies on activities in which owners of small businesses can be engaged. Total amount of token available is 800 000 000. Freldo aims to generate capital worth 80000 ETH, through the sale of 800 000 000 FRECN tokens. The distribution of tokens seems fair enough as 75% of it is used for the ICO, 10% reserve, 10% team and 5% for the bounty and advisors. Given the distribution, we feel the project valuation is reasonable and justified. Considering the pricing and the stake allocation, we give them 8 out of 10 in this aspect.

6. Business Model/Revenue Source (15%)

As informed earlier in this article, FreldoCoin (FRECN) is the internal currency of the project. Every Freldo user will get a financial benefit from their active use of the network. The Affiliate program allows earning without active participation in a network. Partners of the Freldo Network get access to the partner's personal account and referral link, where new entrepreneurs are registered.
Also to be noted is that this is not a new project, they are just implementing the blockchain technology into their ecosystem. Which means they already have a set business model with a good revenue source.
Overall, we give them 8 out of 10 for this aspect.
7. Token Value Increment Options (15%)

Token creation or mining after sale is unavailable, which we feel might lead to the increase in the price of the tokens in the long run. Since tokens are given immediately after payment, we see a possibility where Freldo Coin (FRECN), will become a convenient way of payment within the network, and profitable tool for investment in the near future. The FRECN cryptocurrency will rely on the full range of activities in which small business owners are engaged.
After the ICO, FRECN will be available for full use and will play a role in the following aspects:
A financial asset that is stable and gives the opportunity to repeatedly increase the capital invested in

FRECN

after the initial placement

The domestic currency, which will be profitable to be calculated inside

Freldo

, as well as the means of accumulation

A popular steadily growing cryptocurrency, which can be used in those countries where the

Freldo

network will successfully operate. In the future,

FRECN

should reach a global level
We give them 8 out of 10 in this aspect.
8. Social Media Presence/Hype (10%)

We regard this as an area where there is a scope for them to improve. And though their content offered in various social media platforms like Telegram, Facebook, Medium, Twitter, are really good and updated quite often, but yet they have just "above average to good" number of followers in each of these channels, the numbers of which are as below
Their YouTube channel (https://www.youtube.com/channel/UCWsvI0LW9v89ns4xEwYBD-w/videos) has good content, but surprisingly has not encouraged enough viewers. They have just 30 subscribers now (4300+ views though). Their presence is also felt in the Bitcoin talk forum. We feel that with the content they have, they should have easily attracted more number of followers in each of the social media platforms – be it Telegram, Facebook or Twitter. Also we feel that Team Freldo is really spending a lot of effort in the Content, but this has clearly not got translated to their intended reach, which only will give them the required attention. Despite this, we still give them 7.5 out of 10, for the content they post in the Social media periodically and for the decent number of followers they have across platforms.
9. Competitors (12%)

We feel that the main difference Freldo has from many other similar ICO projects is that it is fully functional business social network. Everybody can register on the platform and check out how Freldo works, look at several of tools for business owner and customers. This we regard as one of the strongest and unique value propositions Freldo offers. We give them 8 out of 10 in this aspect.
Based on our analysis, we give an overall score of 80.8 out of 100 to Freldo, which is Fantastic.
Freldo is based on a unique innovative idea of combining a popular social network with a market-wide system. Also, Freldo builds its business on the principles of general availability for both entrepreneurs and their customers. Most importantly, the work of Freldo is based on the latest achievements of the modern IT industry. Based on our analysis, we feel that Freldo has got the potential to become a leader in its field of activity.
We give it a "Very Good" rating and a long term investment option with moderate risk.