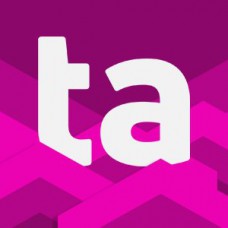 Token Count
2,275,000,000
Today's urban population is constantly growing all over the world and people tend to move from the rural areas into cities searching for higher income and better infrastructure. The World Bank comes up with a statistics that mentions that the urban population has grown from just around 33% in 1960 to more than 54% in 2016. Though this urbanization has forced the cities and the transportation service providers to offer people with the required logistics options, they had to at the same time, adjust to the digital era and become more innovative, convenient and user friendly. Digital marketing is changing the way things were marketed before. Over the last few years, digital marketing has a played an important role in the advertising and branding of any small or large scale organization.

Modern transportation ecosystems thereby allow to do everything via the smart way, i.e., using the mobile phone through an app. And thanks to the advertisers, people have got used to seeing advertisements everywhere they go and public transport, as well as taxis are not exclusions. However, most of the time, the majority of advertisements are irrelevant to each particular person. Advertisers on the other hand have difficulties to make targeted marketing campaigns and get higher returns on their investments in advertising. In both the transport and advertising industries the substantial technological jumps that have been made over the years are evident; however, there is no synergy among them.

Welcome to TACHAIN, the transportation and advertising network, which has found synergy in these elements of daily life of every person who lives in urban area and offers a solution.

All the interactions between the customer and transportation service provider will be stored in blockchain. Customers will be able to rate transportation agents and all the rating details, including comments will be available to all other users. Drivers will be also able to rate customers and their attitude. By doing all that, customers, as well as service providers, will earn tokens. Additionally, users will be able to watch targeted mobile advertisements while driving and earn even more tokens.
Tachain is the synergy of the below three ecosystems:
Travel and transport application "Tachain Transportal",
Advertising platform "Tachain AdNet" and
Token exchange marketplace "Tachain TMARQ".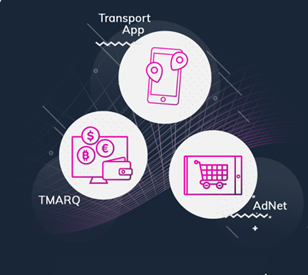 TCHN Ecosystem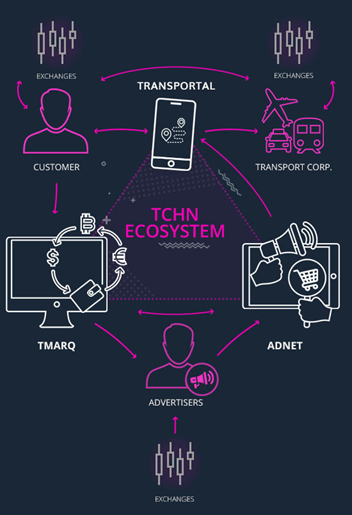 TACHAIN ecosystem is tokenized in order to empower users to use it more often, as well as attract companies to advertise their products and services on their platform
Transportation providers and users earn TCHN tokens for traveling
Advertisers will need TCHN tokens in order to access advertising platform and penetrate users with targeted ads
Users can use TCHN tokens in order to pay for rides, as well as can sell them on TMARQ marketplace or on external exchanges
Users additionally earn tokens for watching targeted ads
Transportation providers can sell tokens at TMARQ marketplace and external exchanges
The growth of the Tachain ecosystem will provide a long-term increase in the TCHN token value. This, however, will be fueled by substantial demand for TCHN tokens from advertisers
Token Distribution:
| | |
| --- | --- |
| CrowdSale | 60% |
| Reserve | 20% |
| Founders | 5% |
| Advisors | 5% |
| Bounty | 5% |
| Marketing | 5% |
TACHAIN Architecture:

The architecture of Tachain project is heavily based on blockchain and smart contracts. It allows to ensure transparency of system and strict execution of financial obligations and contract terms.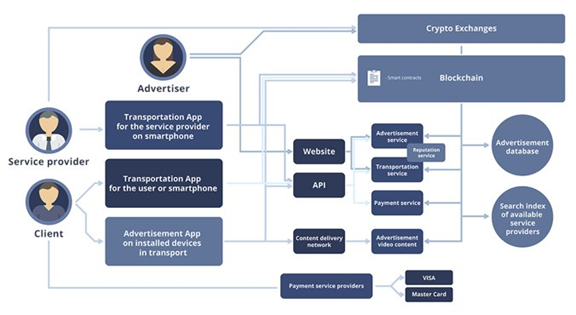 Team
Roadmap
Creation of MVP & concept proofing

Advertising in public transports

Augumented reality advertising
White Paper
Investment Info
Accepting
ETH, BTC
Token Info
Token
TCHN
Platform
Ethereum
Type
ERC20
Token Price
1TCHN = 0.01$
Token Count
2,275,000,000
Schedule
Pre-Sale Start Date
2018-July-04
Pre-Sale End Date
2018-July-23
Crowd Sale Start Date
2018-October-02
Crowd Sale End Date
2018-October-31
Disclaimer : Please note that we are not associated with the ICO nor are paid for preparing this review. This is our personal opinion and contributors are advised to do their due diligence before contributing to the ICO.

Tachain is a completely new blockchain based ecosystem. It provides comprehensive ad targeting system for advertisers while maintaining full security and effectiveness of a full scale transportation app.
The tachain ecosystem is made up of the following components that work together:
Transportal: Transport and accommodation management on a whole new level of efficiency
Adnet: State of the art advertising platform which utilizes newest targeting technologies
TMARQ: Token market for people to trade their tokens and other cryptocurriencies
Tachain is therefore an entertainment and transportation synergy platform and an ecosystem made up of a travel app (Transportal), an advertising network (AdNet) and a token market (TMARQ)..

We have analyzed the ICO based on the below parameters:

1.Necessity or problem statement (12%)
2.White paper (9%)
3.Product Status (10%)
4.Team (10%)
5.ICO Pricing (7%)
6.Business Model/Revenue Source (15%)
7.Token Value Increment Options (15%)
8.Social Media Presence/Hype (10%)
9.Competitors (12%)
Below is the score we have given for each parameter and overall rating of the ICO.
Parameter
Total
Score
Necessity or problem statement

12
9.6
White Paper

9
7.2
Product Status

10
8
Team

10
8.5
ICO Pricing

7
5.6
Business Model/Revenue Source

15
10.5
Token Value Increment Options

15
12
Social Media Presence/Hype

10
8.5
Competitors

12
8.4
100
78.3
1.
Necessity or Problem Statement (12%)
We believe that in the immediate future, transportation service users will plan their routes via mobile applications, as it is the most convenient way of doing that. But the existing challenge is the lack of synergy between the advertising and transportation industry. Despite all the technological advancements that had taken place in both these industries, there is no synergy between the two industries that could tap the benefits from each other.
Tachain aims to precisely address the above said concern. It fosters a platform that will facilitate an effective marrying between these two industries, as such, ensuring that all the possible benefits from these industries are tapped. Tachain has already created an application for taxi service providers and users. The functionality of the application will widen together with the growth of Tachain as to its roadmap. They are also planning to adjust their platform also for Augmented Reality (AR) advertising and to move advertising market to the next level. We give them 8 out of 10 on this aspect.

2. White paper (9%)

You can go through their whitepaper in the 'Details' tab.
They have two sections here – The Whitepaper (exhaustive one with the detailed information), and the Terms & Conditions section.
The whitepaper is decently written and covers all the details like the abstract, their business model, the architecture, their tokens and its economics. There is a detailed architecture provided in the whitepaper along with the blockchain technology references about the platform. We find this in very few whitepapers and we liked this aspect.
We give them 8 out of 10 on this aspect.
3. Product Status (10%)

They have already partnered with companies that have expertise in blockchain technology like Cryptovalley labs, MLG Blockchain consulting, Influential, Criteo, Immobi, Wunderman, OMD among others.
Tachain Minimum Viable Product (MVP) is already available. Tachain has already created an application for taxi service providers and users. We are also given to understand that the functionality of the application will widen together with the growth of Tachain as to its roadmap and will be available soon in the leading app marketplaces. Their MVP application release on App Store is expected very shortly.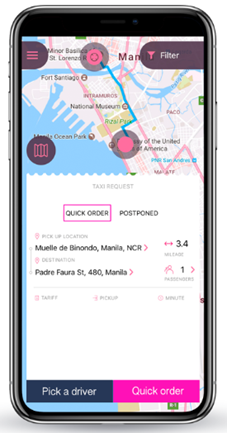 With their MVP and their roadmaps being well defined, we give them 8 out of 10 for this.

4. Team (10%)

The core team consists of 11 members and looks strong. The CEO Demetrius Vallas and the COO Eric Van Loon form an impeccable team and that is evident from their respective LinkedIn profiles. Also to be noted is that unlike the teams of many ICOs we have seen, most of the team members of Tachain have mentioned as working fulltime at Tachain (or its components like Transportal, Adnet or TMARQ) which is really good. We would have loved to see a full-fledged development team in place even before the ICO, but this is compensated by the blockchain expert team they have.
We give them 8.5 on 10 for bringing on board relevant people with strong understanding of the challenges.
5. ICO Pricing (7%)

The Hard cap for Tachain ICO is 10M USD. Maximum number of tokens to be generated is 2.275M TCHN tokens and the soft cap is 2M USD. Interestingly, they also have a hard cap for their private pre-sale, which is 1M USD. With a hardcap of $10 Million, we feel their valuation is justified and attractive. There are quite a few players in the market and since the transportation industry is highly lucrative, everyone will be interested to have a share of the pie. So it will be a challenging task for Tachain to fend off these competition and be the market leader. Given the fact that Tachain has already partnered with companies that have expertise in blockchain technology (Cryptovalley labs, MLG Blockchain consulting, Influential, Criteo, Immobi, Wunderman, OMD among others), they would be able to manage competition. We give 8 out of 10 for ICO structure and pricing.

6. Business Model/Revenue Source (15%)

Tachain's business model is based on the following three elements.
Firstly, they plan to attract transportation service providers in desired countries.

Secondly, they plan to build loyal user base of their mobile application in those countries.

Thirdly, they plan to attract advertisers to use their advertising platform in order to provide targeted ads to the users of their application.
Tokenization of the ecosystem is one of the application's strongest merit. This move is intended to empower the users of the application, giving them value for the time they spend on the platform. Tachain will create token market TMARQ for TCHN tokens. There are a number of players in Tachain ecosystem:
Travelers (mobile application users);

Drivers;

Transportation agents;

Advertisers;

Tachain itself.
Tachain users will, therefore, get to earn cryptocurrencies from viewing targeted ads on the app. Additionally, companies looking to advertise on the platform will be attracted by this feature as it is necessary for them to have TCHN tokens to be able to conduct an ad campaign on the platform.
The design of the Tachain mobile application aims to ensure that its users' opportunities are widened. This step towards making the application more resourceful will be achieved by synergizing platforms such as the Transportal, TMARQ and the AdNet, which when brought together will make the application a very unique and powerful instrument.
We give them 7.5 out of 10 for this aspect.

7. Token Value Increment Options (15%)

TCHN token is Ethereum-based ERC-20 token in the Tachain ecosystem. Tachain had confirmed that their closed sale round was a success. The project had attracted a number of large investors, so in a matter of hours they had collected almost 1 000 000 USD, which was their hardcap for the private sale.
Given the fact that the project has an MVP and the team is going all out in terms of reaching their hard cap, we feel the demand for tokens on secondary market is going to be substantial. Also to be noted is that TCHN token design makes it the cornerstone of their ecosystem and therefore we feel a substantial demand for TCHN will be created soon.
We give them 7.5 out of 10 in this aspect.
8. Social Media Presence/Hype (10%)

TACHAIN has developed an appealing website. Their evangelizing efforts in various social media platforms like Telegram, Facebook, Twitter, LinkedIn, are all intensive and is gathering the intended mindshare among ICO enthusiasts. The footfall they have across forums is a testimonial of their traction.
Twitter – 10700+ followers

Facebook – 6500+ followers

Telegram – 45000+ followers
They have presence in Medium and in the bitcoin forum - BitcoinTalk as well.
They are spending a lot of effort on marketing and that has given them huge attention. We give them 8.5 out of 10 in this aspect.

9. Competitors (12%)

There are many regional players in the space which are currently active in different specific regions. It may not be that easy for Tachain to compete and make a mark in the initial days. Currently, the possible competition for Tachain could come from the likes of Helbiz, Brisk Pass, Tactoken, Ubex among others, which offer their own services either in the transportation space or the advertisement space. This is a unique value proposition of Tachain – that of catering to the needs of two different industries.
Needless to say, Tachain is entering a competitive market, but if they provide a decent service with ubiquitous platform, then they will be able to easily penetrate the market and achieve their intended target. We give them 7 out of 10 in this aspect.
Based on our analysis, we give an overall score of 78.3 out of 100 to TAChain, which is Very Good.
Tachain mobile application we feel can disrupt the ecosystem. Powered by the blockchain technology, the mobile application is being engineered and carefully crafted to not only offer comprehensive viewer targeted advertising, but to also to offer effective transportation app capabilities while maintaining high levels of security and transparency to its intended users.

Based on our analysis, we feel that Tachain has got it right with most of their key attributes. Given their roadmap and the capable team they have, we hope that they will be able to fend off their competition and capture the market share quickly.
We give it "Good" rating and a long term investment option with moderate risk.